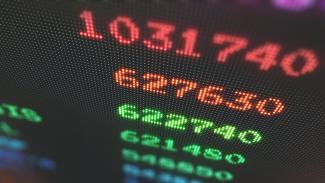 Market Update for July 20, 2022
A few thoughts:
On the S&P 500 we are almost 9% off the lows established mid-June.  That index remains over 17% down year-to-date.  Similarly, the broad US Treasury bond index "AGG" is nearly 3% off its lows from mid-June but still down over 10% year-to-date.  In short, stocks have done worse than bonds but the two have moved nearly in lockstep in 2022, so diversifying between the two normally disparate asset classes has offered little relief and no real opportunity for risk-adjusted outperformance.

Growth stocks have outperformed value stocks over the past month, but I remain concerned that a revisit of the lows for stocks in general will be met more harshly for growth stocks than value stocks.  I think staying invested but with a value-bent is generically what I would prefer in this market environment, as difficult as it is (this is not specific to any given client, all of whom have unique circumstances, time horizons, and risk appetites which is why we meet so frequently to discuss a family's particular situation).

 

I previously wrote about how the S&P 500 seemed to be holding the 4,070 area, and we remain around 100 points or 2.75% below that figure.  I am not sure if that region might act as more of a ceiling now that we are potentially approaching it from below, but if we can break through that area on the charts it again may act as more of a floor.  This is about as much "technical analysis" as I ever do, and while I like to approach my view of the stock market from different vantage points, that type of work is not my personal specialty.


I wrote about this earlier, but I'm always happy to discuss if I Bonds are appropriate for you.  There are limits on how much you can invest ($10,000 per person, and an additional $10,000 for a family's trust, so a given client family of mine can invest $10,000 to $30,000).  9.62% is the annualized rate of return until sometime in October when the rate from October 2022-April 2023 will be announced.  One-year hold with no liquidity and then after 12 months but before 60 months one would pay 90 days' interest back to the government to access the balance in-hand.  After 5-years' time there are no penalties for redemption.  Please visit the U.S. Treasury website for more information. 


To reiterate a few of my economic thoughts:

We may or may not have a recession.  I care a lot more about the movement of the stock and bond markets than I do about a recession defined specifically as such.  The depth and length of a would-be recession is going to heavily affect stock and bond market returns, though, so that is why I care about this term.  In other words, I will take a short and mild recession without hesitation vs. GDP growth that languishes near-zero for many years- frankly, anybody rooting for stocks to do well should feel the same way.


Unemployment remains around 3.6% and I recently read there are 5 million more jobs available than there are job-seekers to potentially fill them.  Some job positions will remain unfilled for any number of reasons, but my guess is as the economy slows some job openings will be removed by the employer without being filled- anecdotally, I think this is already happening.  My guess is that by next summer unemployment returns to a more normal longer-term level of 5-6%.


Inflation is running north of 9% as of the most recent data.  It may or may not have peaked in the past month or so, but it certainly remains pervasive.  The Federal Reserve is raising interest rates quicker than they ever have in history, playing catch up against the scorecard of inflation that has been loud and unkind of late.  I think inflation will dissipate by next summer, but probably not below 5-6%. 

Inflation and Unemployment may both be mid-single-digits by next summer- obviously that could be wrong, but that is my best guess today.

 
Have a great summer, in CT we are finally getting that super-hot and humid streak that we often do.  I prefer this time of year vs. the alternative.  I figure you have to either embrace this or the depths of winter, and to each his or her own 😊