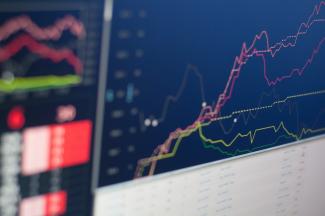 Market Update for September 12, 2022
It is so easy to be dour and pessimistic with the world - I came across this article today and wanted to share it just because it points out some positives. 
I am sure some of the points can be argued, but the author overall makes a compelling point that not only are things not that bad for the U.S., they are relatively GOOD for Americans compared to our worldwide counterparts.  In this vein, I would point out that the U.S. dollar is extremely strong, and that is something of a worldwide scorecard.  If you've ever been to Europe do you remember paying more than $1 for a Euro?  Of course, you do, and yet today those currencies are hovering near parity (1:1).  I remember in 1998 I spent the fall in Glasgow, Scotland, and we used the British pound.  It was about $1.85 or so per pound - today that is near a multi-decade low of $1.17.
The stock market is bouncing around without much near-term momentum or direction, but I remain optimistic that a few years from now we will find the indices well above these levels.  It really is prudent in this era to check in on your accounts more like quarterly and less like hourly - the first two quarters were both generally negative for stocks (and bonds), but we are above the second quarter close on the S&P 500 as I write this note (9/12/22), and by over 8%.  Not every week or month will be positive, but the historical tendency going forward would be to curtail some losses for the remainder of 2022 and then see some gains in 2023.  I remain hopeful that will be our trajectory, and in-kind I look forward to lower inflation readings, which can ease our glidepath back to new highs.  The mid-term elections should be politically instructive, and markets tend to prefer those elections in the rear-view mirror as opposed to the front windshield.
A personal milestone of note, Friday represents my 20th anniversary here at First Financial Associates.  I feel like I have the best staff in the world, and it is a privilege to come to work every day and fight through the markets on our clients' behalf.  I never have the "Sunday scaries."  I am truly blessed to be able to do what I do for a living, and I thank all of our clients for the continued opportunity.